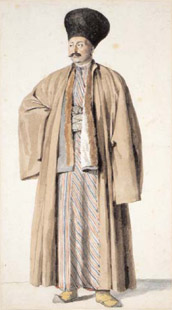 The drawings in this exhibition comprise a wide spectrum of various media, drawing styles, and techniques. Many of the artists chose to use a combination of the media described below to achieve their desired effect. This guide is by no means complete, but gives a quick introduction to the various facets of drawing encompassed by these works. Another excellent resource for information about drawings is a Drawing Glossary written by Edward Saywell, in conjunction with the Fogg Art Museum at Harvard University.

body color: an opaque water-soluble pigment, also known as gouache. "Watercolor" drawings are usually some combination of transparent pigments (watercolor) and opaque ones. An excellent example of the use of body color is A Woman Seated in Profile, Facing Right, by James Jacques Joseph Tissot. In 1834, the paint manufacturers Winsor and Newton introduced Chinese White, or zinc oxide, which was marketed as a substitute for lead white. Chinese White was used in a layer over the pink paper in Two Peasants, by Camille Pissarro. Renoir used lead white in A Woman Seated by a Lake, though the white has oxidized and is now black.

chalk: a drawing implement derived from various natural sources. Black chalk is obtained from carbonaceous shale, red chalk from the red ochre variety of hematite, and white chalk from the chalk variety of calcite or soapstone. Lumps of these materials were reduced in size and placed in metal holders. The drawing end was shaved to a point. The stone can also be crushed, washed, reformed, and compressed, usually with the addition of a binder. The stroke of black chalk is black or grayish, and is often less intense than that of charcoal. Red chalk, also known as sanguine chalk, is a rusty, brownish-red color. White chalk is mostly used to highlight parts of drawings in other media on colored paper. Two Studies of a Girl's Head by César-Paul Helleu makes use of all three colored chalks, which was a technique favored by artists of the eighteenth century, notably Watteau, called "aux trois crayons."

charcoal: made by reducing wood to carbon in heated chambers from which oxygen is removed to prevent combustion. Similar to chalk, charcoal was either cut into pieces and used with a holder or pulverized and recompressed. Charcoal produces an intense, velvety black line which is easily smudged or smeared. Chalk and charcoal are fragile drawing media because their hold on the fibers of the support are tenuous. An excellent use of charcoal can be seen in View of Pont-en-Royan, by Léon-Augustin L'Hermitte.

crayon: In the seventeenth and eighteenth centuries, crayon was used to describe both chalk and pastel drawings, but in the nineteenth century, what we now know as the modern form of the crayon, with its waxy, greasy texture, began to be developed. Black crayon was utilized by Jean-François Millet in A Man Ploughing and Another Sowing.

graphite: also know as pencil, graphite is a variety of nearly pure carbon. Depending on its origin, the color of graphite varies from velvety black to steel gray. As early as the sixteenth century, it was discovered that graphite could be covered by pen, ink, or paint without disturbing the line, unlike charcoal or chalk, thus it became a popular medium to use for sketching out a work that would later be gone over in another medium. Léon Bakst's Portrait of Virgina Zucchi uses graphite on almost all of the paper surface.

ink: employed universally for centuries for writing and drawing, ink is made up of a pigment (usually black) and a glucocidic (gum or honey) or a proteinaceous aqueous binder. Indian ink is a compound of black ink mixed with gum and resin and hardened by baking. It is waterproof and the resin gives the line a sheen. The Study for 'The Black Brunswicker' by Sir John Everett Millais makes use of black ink in the outlines of the costumes worn by both figures, as well as washes of black ink throughout the drawing. By the Cradle and Sweep the Floor, by Arthur Hughes, are rendered mainly in Indian ink.

wash: when used in connection to watercolor, this term denotes a covering with a broad layer of color applied by a continuous movement of the brush. When applied to ink drawings, the term usually means the use of diluted ink. However, pen drawings are often frequently washed with a different color. A Monk, Visiting A Fellow Monk in a Penitentiary Cell by François-Marius Granet uses wash throughout the drawing.

watercolor: a pigment for which water and not oil is used as a medium. Gum arabic is used as a binder. A watercolor wash is a liquid composed of particles of color brushed from cakes of pigment suspended in water. Pure watercolor achieves its translucent appearance because the white surface of the paper functions as the lighting agent. These effects can be see in The Grand Cascade at Saint Cloud by Henri Harpignies.

wove paper: composed of matted fibers, paper was originally made from rags but in the nineteenth century wood pulp was also used. Made in a mold with a fine wire grid as its base, the sheet of paper is created when the mold is dipped into liquid pulp so that the fibers cover the grid. Wove paper is made from a mold made of mesh woven much like a piece of fabric. It differs from laid paper in that the mold used to make laid paper consists of parallel rows of thin wires lying close together, crossed at intervals of one to one and a half inches by thicker wires. The main differences between the two papers lies in the surface textures, which appears either as a pattern of pale lines (laid) or as an irregular mottling (wove).

Sources consulted:
Goldman, Paul. Looking at Prints, Drawings and Watercolours. London: The British Museum Publications Ltd, 1988.

James, Carlo, Caroline Corrigan, Marie Christine Enshaian, and Marie Rose
Greca. Old Master Prints and Drawings: A Guide to Preservation and Conservation, edited and translated M. B. Cohn. Amsterdam: Amsterdam University Press, 1997.

Lambert, S. Reading Drawings, An Introduction to Looking at Drawings. New York: Pantheon Books, 1984.