Tomb Chamber of RT 800
One of Woolley's most significant finds was the excavation of the unplundered chamber of Queen Pu-Abi's tomb. Alongside the queen, which was laid out on a bier, the bodies of two of her personal attendants (and the skull fragments of possibly a third) were found. The contents of this structure are all in the possession of the University of Pennsylvania Museum, where many are on permanent display. Two of these objects are Pu-Abi's headdress and her cylinder seal.

---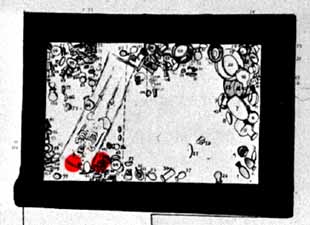 (click on a hotspot to learn more)
---
This page created by COGITAS.